Week of September 5th - Week of October 10th
For ages 4-17
Early Elementary: 4-7 years old (3-year-old emerging readers are welcome!)
Late Elementary: 7-11 years old
Middle/High School: 10-17 years old (if your high schooler is looking for a college-level curriculum, they are welcome to join our adult classes here!)
*

If the student's age falls between two different age ranges, they are welcome to join either. Once they have gone past the maximum age limit of a certain age range, they will have to join a class of the next age range up.

Time & Dates
Classes from September 5th through October 16th
30-minute weekly classes
Class options available every day of the week 
6 weeks per session

Pricing
Only $8 per class
20% off for each additional enrolled sibling upon request*

Opting out of the discount request is a great way to support our organization's cause. Any amount of help is greatly appreciated!
*

Additional sibling must be enrolled in a kids class or an adult class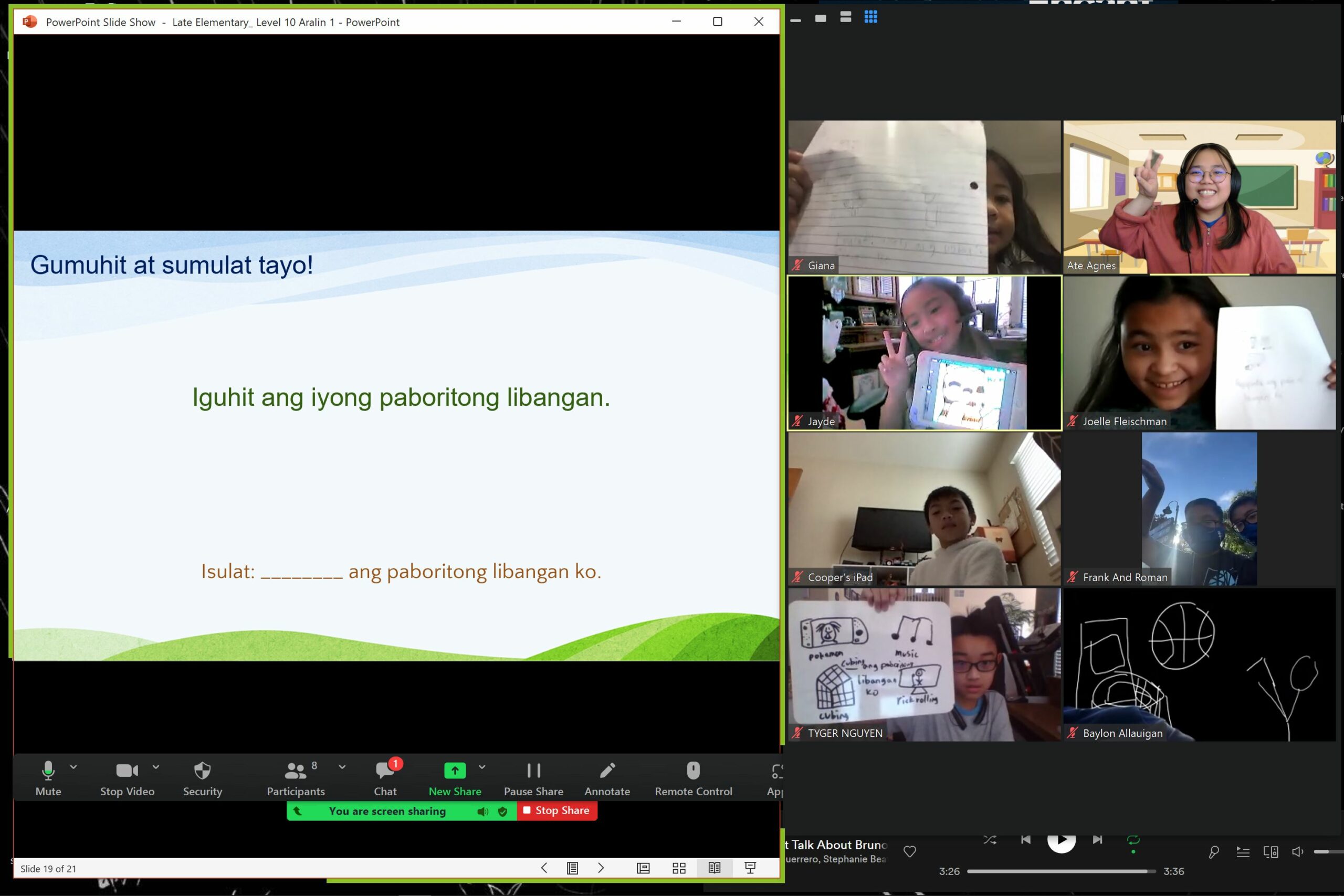 Intro to Tagalog Class Overview
Every class focuses on different topics and activities. Here is an outline of what you can expect to learn in each class:
Self-introduction and basic greetings

Filipino alphabet (ABAKADA) and examples for each letter

Counting numbers

Members of the family and the verb punta

Parts of a house and the verb linis

Game review
All new students start at Level 1. If you have previous Tagalog experience, you may take a placement test to determine your level.
Fall Session 1 (Current)
Fall Session 2
Winter Session
Fall Session 1 (Current)
All class options are available to browse on our Google Calendar below. Please note that all of our class times are in Pacific Time. You can toggle between the different age ranges by clicking on the dropdown menu at the top right corner of the Google Calendar.
Can't find a class time that works for you? List your availability here and we will reach out to you once we are able to start a new class that works with your availability.
(Class dates & times are tentative and may be rescheduled/cancelled if not enough students enroll by the listed start date. Please keep an eye out for an email/text message from us as we approach the listed start date.)
Fall Session 2
Winter Session
Please click below to start registration and choose your class date/time!